LAST UPDATED AUGUST 17, 2005
I was in Atlantic on Sunday and I was at Pamida talking to the cashier. I asked her if Wal-Mart has affected the store at all. She said no but Kmart is going bye-bye. Yep. The only town in Iowa with a Kmart, Alco, Wal-Mart, and Pamida will be Kmartless. It closes October 12, 2005. I would of went to Kmart but it was closed for the evening (they close at 7 on Sundays.) I'm quite impressed actually, I mean I'll miss the Kmart, but I always thought Alco would be the first to go.
Latest Updates about music.
HIlary Duff's "Most Wanted" CD has come out. My roomate has purchased it and loves it, but there's only four new songs on it. It has a lot of remixes, which is cool. And I bought Simple Plan's latest album, "Still Not Gettin' Any", and it's pretty good.
Some songs I've downloaded (I love Kellogg's and Wal-Mart musicdownloads.) are "Look What You've Done" from Jet, "Perfect" from Simple Plan, and "Incomplete" from the Backstreet Boys (I really don't like BBS, but this song doesn't sound like them and the song is cool.)
Feel like you need to communicate with someone?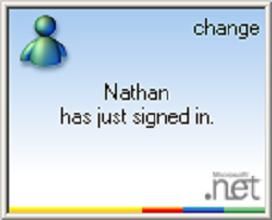 Get MSN Messenger Today! Click on the picture to get it! You'll be glad you did!
ACTORS/ACTRESSES I ADMIRE:
Mindy Cohn

She is one of the funniest people in all of TV and she's good looking (She Was On The Facts of Life)