Nathan's Planet
CLICK HERE FOR UPDATES AND WHAT'S NEW!
Hey all and welcome to my page! Here you will find some interesting quirks. I'm really interested in retail so you'll find a lot here.

UPDATES MADE AS OF 1/1/2009

H A P P Y N E W Y E A R ! ! ! ! !

NEW PICTURES

I FINALLY uploaded an updated picture of the Pamida in Chariton, and have new pictures of the Pamida stores in Corydon and Albia.

NEW EVENTS

I was thinking about profiling malls on my website...go ahead and Email me or sign my guestbook for your input!

Also, they have started construction on the Days Inn in Carroll...and they STILL need to put (Carroll's) Pizza Hut signage on their newly remodeled building!

I have just entered my second year into AIB.

I've visited every Wal-Mart on the western half of the state of Iowa.


NEW RETAIL NITPICKS

Steve & Barry's is closed for good...and I know that can't be a good thing. Now Southridge Mall in Des Moines, Iowa is going even further south (literally).

Changes: The Harley Davidson dealer in Carroll, Iowa FINALLY fixed their sign so it looks great! And RentAll is coming to Carroll, also...and the Days Inn is halfway built (I still think the location for Days Inn is silly...but it's at the crossroads of US 71 and US 30.


If you would like to know more about me, visit my MySpace page at:
Thank you!
I never thought it would happen.....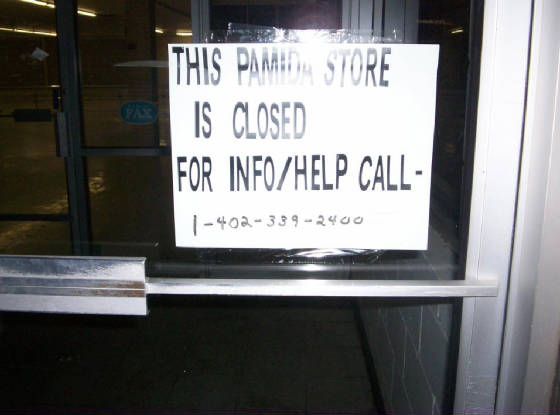 The very first Pamida store in Knoxville, Iowa closed its doors.
YOU ARE VISITOR NUMBER
Free Counter
SINCE 6/24/02

FAVORITES!

TV SHOWS
The Facts of Life, Degrassi: The Next Generation, Daria, and Little House On The Prairie

MUSIC

Wilson Phillips, Laura Branigan, Switchfoot, Shania Twain, Simple Plan, and some tidbits from Tom Petty and the Heartbreakers, Poison, Jet, Hilary Duff, Gwen Stefani, No Doubt, Kelly Clarkson, Avril Lavigne, Sarah McLachlan, and DJ Sammy.

MOVIES

The Butterfly Effect, Rain Man, Daria: Is It Fall Yet?, Daria: Is It College Yet?, Willy Wonka and the Chocolate Factory, The Facts of Life Goes To Paris, The Facts of Life Down Under, The Little Mermaid, Beauty and the Beast, The Shawshank Redemption, and Buster (it has Phil Collins in it; UK 1988)

PLACES TO SHOP & HANG OUT
Wal-Mart, Barnes & Noble, American Eagle, Video Game stores, The Buckle (SOMETIMES....Too Expensive most of the time), Malls, Pamida Discount Center, and Fareway.

DURING YOUR VISIT HERE, BE SURE TO RATE ME ON HOT OR NOT!

WHERE DO I WORK?

I work at Wal-Mart #1787 in Carroll, Iowa. I am a Courtesy Desk associate but also work as a CSM (Customer Service Manager). I was crowned 4-Star Cashier August 2004. I have been working for Wal-Mart for four years. I know how to do everything in the store except Pharmacy. Paint, Keys, Licenses, Cell Phone Sales (Connection Center), Returns, Snack Bar, Layaway, Sales Floor, you name it, I'm sure I can do it.)

I admit I took a two month trip to Target in West Des Moines, Iowa...and left after two months. Though they were great and I have no complaints of working there, I felt Carroll Wal-Mart was the place for me. While I go to school I work there Thursdays through Sundays. Everyone thinks I'm crazy for driving 80 miles to Carroll every weekend...I don't seem to mind it and I think I made the right decision...plus I make more money than I did at Target amazingly.

Here is a history of what Wal-Mart stores I have worked in:

MAY 20, 2003 - AUGUST 1, 2003 - Wal-Mart #1787 - Carroll, Iowa

AUGUST 2, 2003 - FEBRUARY 20, 2004 - Wal-Mart Supercenter #0886 - Fort Dodge, Iowa

FEBRUARY 22, 2004 - MAY 13, 2004 - Wal-Mart #1389 - Boone, Iowa

MAY 15, 2004 - OCTOBER 27, 2006 - Wal-Mart Supercenter #0886 - Fort Dodge, Iowa

OCTOBER 28, 2006 - August 31, 2007 - Wal-Mart #1787 - Carroll, Iowa

SEPTEMBER 1, 2007 - January 2, 2008 - Wal-Mart #1723 - Des Moines, Iowa

FEBRUARY 29, 2008 - Present - Wal-Mart #1787 - Carroll, Iowa

I have enjoyed working at Wal-Mart ever since I started. There is almost never a dull moment. Working for Wal-Mart has helped me get out in the world and communicate and to be a better person though there is way too much drama out there.